At the end of every financial year in April, we look back over the previous 12 months to evaluate our performance. This gives us an idea of what we're doing well, where we're exceeding our goals, as well as identifying the areas that need improvement, helping us to establish our priorities for the year ahead.
To give you a clear snapshot of our performance, we have recently refreshed our Performance Update. The new update gives an informative overview of our achievements, using data from the previous period, from April 2022 to March 2023.
Take a look at our performance highlights: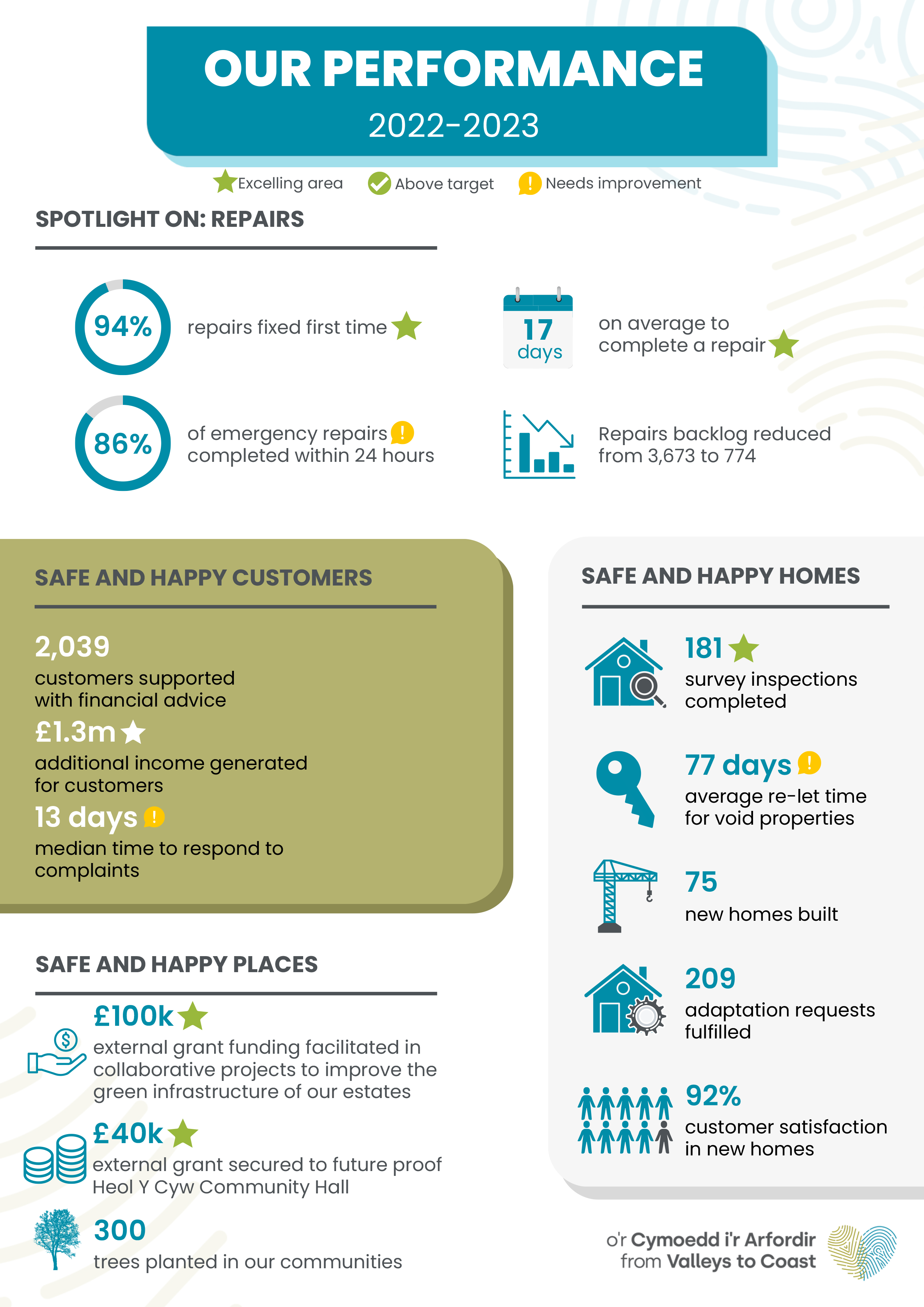 Spotlight on: Repairs
We know that repairs are a top priority for our customers, so, in this update, we've highlighted our repairs performance. You can see that we have made some great improvements and exceeded our targets in several areas. However, we also recognise that there are areas where we still need to do better.
It is great to see that the majority of repairs are being fixed the first time and that the average time to complete a repair is down to 17 days.
These achievements have allowed us to prioritise the reduction of our repairs backlog, a legacy of the pandemic from when we were unable to access your home. Through our Turnaround programme, we have made excellent progress in addressing this backlog, and we are grateful for your patience and understanding throughout that process. We remain committed to further improving this area in the coming year.
Ensuring the completion of emergency repairs is a priority of ours, and while our target for this area is 100%, the recorded figure currently falls below the mark. However, it is important to note that this completion rate does not mean that only 86% of emergencies were attended to within 24 hours. There are a number of cases where follow-up visits may be necessary and are not counted in this metric. We hope to see improvement in this area in next year's update.
Providing homes and places where people feel safe and happy is our very purpose and we've listened when you've told us you don't think we're doing enough to look after your home.
That's why we are thinking differently and creating a new company, a wholly owned subsidiary, which we will 100% own, to improve, grow and develop our repairs and maintenance service. Learn more.